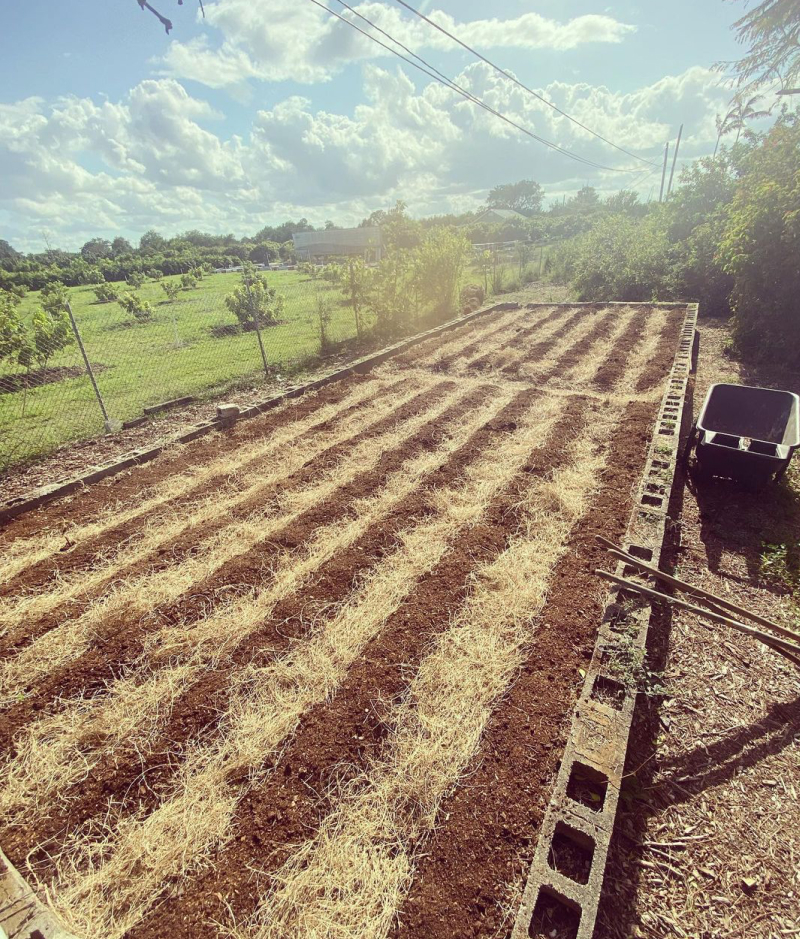 The Little Farm
Snacking Garden
The Little Farm is always dedicated to the education of both children and adults alike. Along with @intergrowers we have been able to expand our garden and veggie offerings here at the farm in a fully sustainable form
Throughout the year visitors can taste a variety of vegetables and herbs from our snacking garden and veggie lot.
The Little Farm Snacking Garden is home to:
Tomatoes
Cucumbers
Squash
Lettuces
and so much more!
We have been working on regenerative agriculture practices to not only implement into our Snacking Garden but also a new Veggie Lot.

Explore our garden
Watching a garden grow, blossom and change is one of the magical experiences we have at the farm
Snacking Garden
Planning & Prep
This season Joey and Conor, with the help of the rest of our crew, and as part of an internship program with Florida International University's Agroecology program, have been working on regenerative agriculture practices to not only implement into our Snacking Garden but also a new Veggie Lot. This includes a customized soil mix for our area – Zone 10b, two types of compost – cold and hot, and tons of manure.
Each year we complete bed preparation, seed our cover crop mix, and set up irrigation for our showcase garden! Our regenerative cover crop mix consists of sunn hemp, buckwheat, cowpea, sudangrass, radish green mix, and an innoculant of 40 lbs of kelp, 40+ lbs of compost, 8 lbs of azomite, 20 lbs of wood ash, 2 cups of lime,10 gallons of perlite to mark spreading, and almost 40+ tons of livestock manure. This is going to provide a diverse array of soil nutrients.
FUN FACT: We also compost to continue the act of putting organic materials along with plant and food waste back into the earth to enrich and fertilize soil throughs the growing season.
Vegetables
Grow
Our Snacking Garden located at the back of our Butterfly Garden is always sprouting something. Depending on the time of year, we've got tomatoes beginning to flower, Radishes ready to pick, beans and peas in their shells, large leaf and curly kale, broccoli florets, yellow carrots, bok choy, greens galore, and a bunch of different herbs such as basil, dill, oregano, thyme, cilantro, and rosemary.
FUN FACTS: No matter the season, our garden it always ready for tasting!
Pollinators
Collect
Pollinators collect nectar and pollen from the squash flowers growing in our Snacking Garden. Our garden is full of beneficial insects, pollinators, and plants that keep our ecology in sync. Often we may not notice the hummingbirds, bats, bees, beetles, butterflies, and flies that carry pollen from one plant to another as they collect nectar. Yet without them, wildlife would have fewer nutritious berries and seeds, and we would miss many fruits, vegetables, and nuts, like blueberries, squash, and almonds…not to mention chocolate and coffee…all of which depend on pollinators.
FUN FACTS: These hard-working animals help pollinate over 75% of our flowering plants, and nearly 75% of our crops.